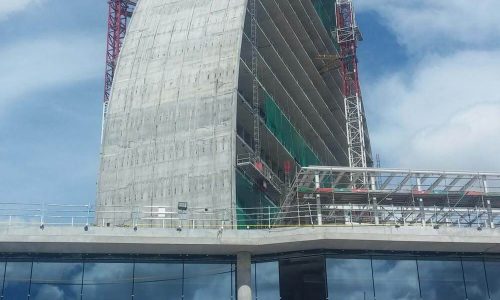 WHO ARE WE?
We are Protecciones Toledo S.L: designers, manufacturers, and suppliers of single and collective safety equipment for the building sector and other areas that require working from heights.
Our company, certified under the ISO-9001:2015 Standard by TÜV Rheinland, is a leader in the metal sector, working for more than 20 years. Besides, we have a well-qualified staff.
The Prevention of Occupational Risks is necessary for any workplace, even more, in areas where accidents can lead to death, as could happen with working at heights.
Our protection systems are, therefore, designed to prevent falls from different levels. They are mandatory on construction sites or other work types requiring climbing or standing two meters above ground level.
From Protecciones Toledo S.L, we offer the highest quality so that you and your workers are safe during the development of your work activity. What worries us most is your returning home with your beloved ones after a working day.
Among our products, we have temporary metal edge fastenings, ground-level, and other applications for the construction industry.
Our purpose is to protect you and your employees in the short term. For this reason, our designs follow approved quality standards and the most demanding manufacturing processes, attending to measurements and the ideal technical characteristics so the product guarantees maximum safety.
Furthermore, we work with an external laboratory where sample pieces are previously tested and proven to be 100% efficient and reliable. We ensure they fulfil their function: the protection of lives.